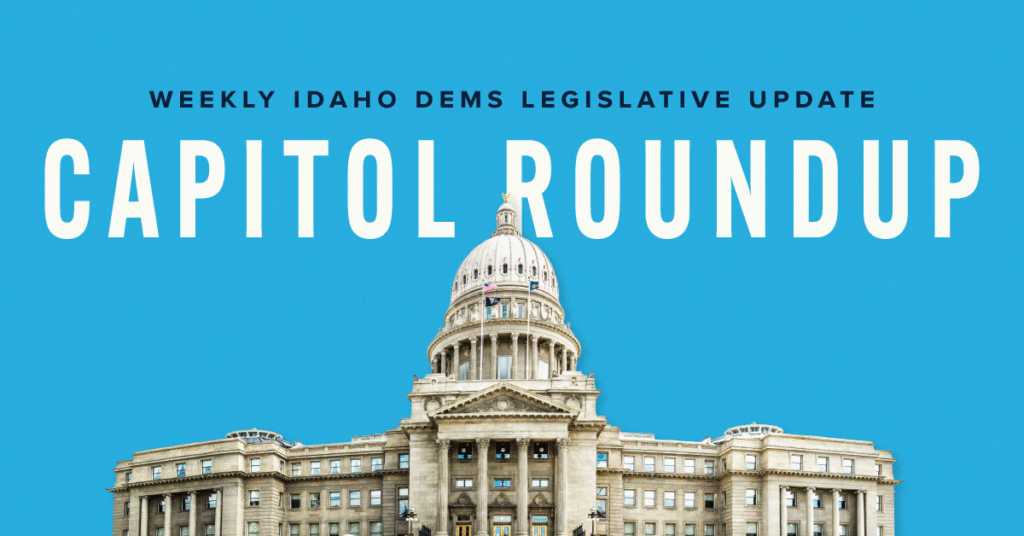 As temperatures dip below zero in parts of Idaho, things are heating up during the fourth week of the legislative session.
Protect Our Public Schools
👎 Senate Bill 1038 – School Voucher ESAs
Yesterday, a group of Republican politicians introduced legislation to divert public dollars away from public education and students to subsidize private and religious schools with ZERO oversight or accountability. Years of chronic underfunding have forced our public schools to slash budgets for teacher and support staff salaries, extracurriculars, career technical programs, and more. Many rural schools are operating on a four-day school week to cut costs and are struggling to hire certified teachers and classroom aids. A voucher program would only make these problems worse.
Our public schools are the centers of our communities. They must be well-funded and resourced to support safer communities and a stronger economy. Click the button below to encourage your elected officials to vote NO on Senate Bill 1038.
Democrats Made the Difference
The Democratic Caucus is a small, but mighty force in the Idaho Statehouse. This week, Democrats on the House Education committee were able to move forward with House Bill 19, postsecondary scholarships for in-demand careers. If not for Democratic support, an evenly divided Republican vote would have killed the bill.
Democrats across Idaho were also able to push for positive change. We received nearly 600 signatures demanding Republican Chairman Bruce Skaug let students testify in the House Judiciary, Rules & Administration committee. After public pressure, he relented and students under the age of 18 can now testify in the committee with parental permission.
Legislation to Watch
House Bill 54 – Voter Suppression
Once again, Republicans are attempting to put barriers in front of the ballot box. This voter suppression bill would eliminate the use of student IDs and sworn personal affidavits at the polls. Despite zero reported cases of fraud or problems voters with these forms of identification during the 2022 election, this legislation risks disenfranchising eligible Idaho voters.
Senate Joint Resolution 101 – Ballot Initiative Restrictions
In 2021, Republican politicians passed a law to make citizen-led voter initiatives nearly impossible. The Idaho Supreme Court later ruled it unconstitutional because the law infringed upon the fundamental rights, reserved to the people of Idaho. Now, Republican politicians want to rewrite the Idaho Constitution to take away that right.
After hours of testimony almost entirely against this legislation, Republicans on Senate State Affairs voted to send the resolution for amendments earlier today. We must remain vigilant and oppose all efforts to restrict the ballot initiative process.
👍 House Bill 48 – Repeal of Minimum Wage Preemption
Introduced by Rep. Steve Berch, this legislation would repeal the prohibition on political subdivisions adopting a higher minimum wage than the statewide minimum wage.
👍 Senate Bill 1101 – Add the Words
All Idahoans deserve equal protection under the law. That is why Sen. Melissa Wintrow reintroduced legislation to add the words sexual orientation and gender identity to the Idaho Human Rights Act. The update would protect all Idahoans from discrimination in housing, employment, and public accommodations. In a show of support, every Idaho House & Senate Democrat signed on as a co-sponsor.
If you haven't yet, please add your name to our virtual card thanking the House and Senate Democrats for their commitment to equality.
The Democratic Debrief
Hear from Idaho Democratic Party Chair and District 19 Representative Lauren Necochea in the latest installment of the weekly Democratic Debrief.
Together we can fight for a better Idaho. Stay tuned each week as we share new opportunities to add your voice and get involved.