We rely on infrastructure to power and connect our daily lives. This includes the roads we drive on, our water delivery systems, and broadband access that links us to information and commerce. Two years ago, President Biden signed the Bipartisan Infrastructure Law, a once-in-a-generation investment in our nation's infrastructure. This landmark legislation is rebuilding long-neglected public structures and creating good jobs with family-sustaining wages along the way.
In Idaho, $2.5 billion in funding has been announced, with over 252 specific projects identified. The investment covers $1.6 billion for roads, bridges, public transit, and airports, $210 million for water projects, and $583 million to ensure rural Idahoans can access reliable high-speed internet. In fact, more than 49,000 Idaho households are already saving on their internet bill.
The impact of the Bipartisan Infrastructure Law is best demonstrated by the projects underway across Idaho.
The North Portneuf Crossing project will enhance traffic safety and improve traffic flow while making the road safer for pedestrians and cyclists. Meanwhile, the Genesee and McCall-Donnelly Districts were awarded funds to purchase electric school buses. Children will no longer have to breathe diesel fumes at the bus stop, schools will see big savings in fuel costs, and entire communities will benefit from fewer emissions. The St. Maries School District will make energy-efficient building upgrades to create healthier learning environments.
As wildfires continue to threaten lives and property, the Bipartisan Infrastructure Law supports prevention and community resilience. These include the Clark County Roadside Fuel Breaks project to bolster wildfire protection for communities in Dubois, Kilgore, Spencer, and Medicine Lodge and funding to reduce the risk of catastrophic wildfire, sustain industry, and protect recreation across the Boise and Payette National Forests.
A $4 million effort to line the Treasure Valley's New York Canal will more efficiently deliver water to farms and residents. And the Idaho Falls Regional Airport, a critical gateway for Eastern Idaho, received $5 million to upgrade its terminal.
Local leaders are celebrating this progress because they have seen dire needs go unmet for too long. It's also good news for our economy. The International Monetary Fund estimates that every $1 invested in infrastructure yields $1.40 in new economic activity.
As we celebrate a transformative legislative accomplishment, we should remember it passed despite Republican obstructionism. Idaho's congressmen, Mike Simpson and Russ Fulcher, both voted in opposition. Nevertheless, one shouldn't be surprised to see them at ribbon-cutting ceremonies for the popular projects the law is making possible.
While some Republican politicians try to roll back historic progress and heap more tax benefits on those who need them the least, Democrats will continue investing in the middle class and the infrastructure that sustains us all.
Onward,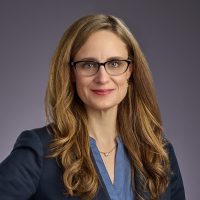 Lauren Necochea
Idaho Democratic Party Chair