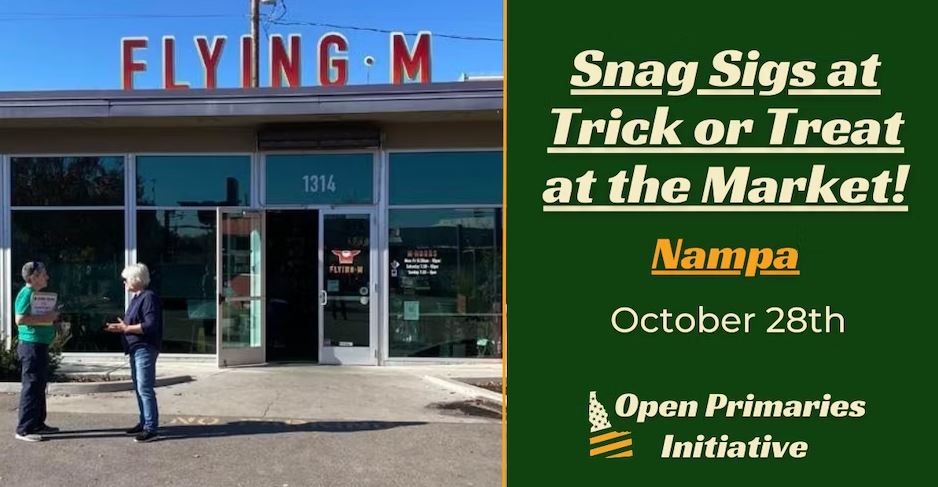 Open Primaries Initiative: Collect Signatures at Trick or Treat at the Market
October 28 @ 8:00 am

@

4:30 pm

MDT
Join us for a shift at Trick or Treat at the Market in Nampa as we invite attendees to sign the Open Primaries Initiative! This is a great opportunity to talk with event attendees about the importance of this measure. At the beginning of each shift, we'll meet at the lot near 1918 Lounge at the corner of 1st and 13th, and then split up to talk to folks about this. It will be necessary for us to stay on public property while we gather signatures. Supplies and training will be provided! Dress to impress in your favorite festive costume!
Idaho's closed primary blocks 270,000 independent voters from voting in the most important elections resulting in many of our leaders being hand-picked by political party committees, not by the people they're supposed to serve. It's time to give power back to the people of Idaho.
The Open Primaries Initiative will give Idahoans more freedom and better leadership. This initiative gives all voters, regardless of party affiliation, the freedom to vote in all elections and elect more leaders who focus on solving real problems. Please sign up for a shift if you can make it! Hope to see you there!
Share This Story, Choose Your Platform!