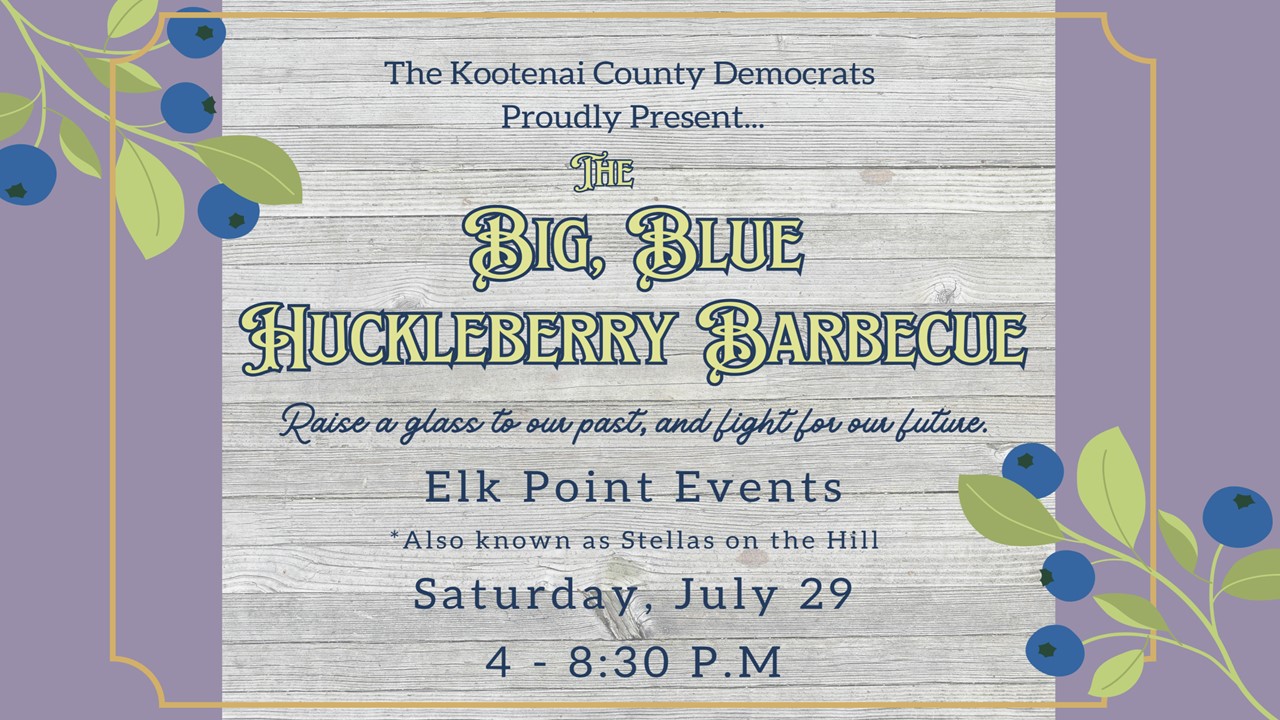 Kootenai County Democrats: The Big Blue Huckleberry BBQ
July 29 @ 5:00 pm

-

9:30 pm

MDT
Raise a glass to the past as we fight for our future at the Big Blue Huckleberry BBQ. Join your Democrat friends and neighbors for an unforgettable evening at the stunning Elk Point Events (More commonly known as Stellas on the Hill.) Stellas on the Hill is North Idaho's premier outdoor venue, offering breathtaking views of Lake Coeur d' Alene.
Our biggest fundraiser of the season will celebrate all the things Democrats love about where we live – past, present, and future. The event revives a dearly beloved Democrat tradition that dates back to when our party held the majority in North Idaho and built a foundation for all of the infrastructure and beauty you know and love today.
As you enjoy a mouth-watering pulled pork dinner, spellbinding storytellers will share unforgettable tales of North Idaho. Throughout the evening, a variety of live music will float through the trees as we all enjoy a no-host bar, and great conversation. Be sure to dress for the weather and bring your pocketbook for access to one-of-a-kind auction items.
Doors open at 4 p.m. and the last call is at 8:30 p.m. Dinner includes options for vegan/gluten free guests.
For questions, email KootenaiDemsCommunications@Gmail.com
Stella's at Elk Point is located 4176 E Potlatch Hill Road, CDA.
Share This Story, Choose Your Platform!