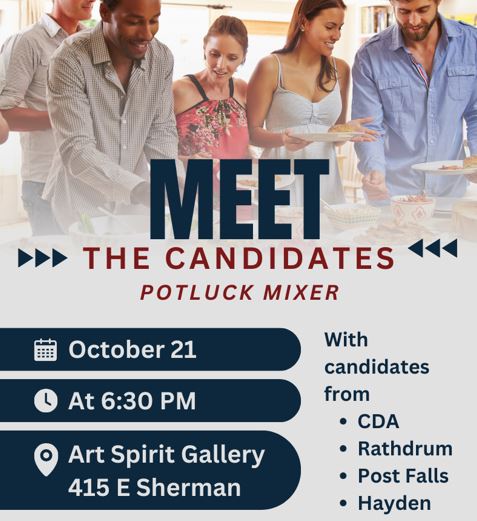 Kootenai County Democrats: Meet the Candidates Potluck Mixer
Hear from nine different candidates for office at this free, fun and informal potluck mixer.
Candidates from across Kootenai County will gather at Art Spirit Gallery, Saturday October 21 at 6:30 p.m. to share their vision for our area and get to know you better.
Hosted by the Kootenai County Democrats, this nonpartisan event includes candidate presentations from across the political spectrum. Representatives will also be available to talk about the Open Space Bond Question, and answer voter registration questions. Our goal on October 21 is to empower voters by connecting them personally with candidates for elected office. If you can, bring a small finger food to share. This event is free and open to the public. However, as a courtesy to the venue and the event planners, please let us know you are coming through.
Share This Story, Choose Your Platform!