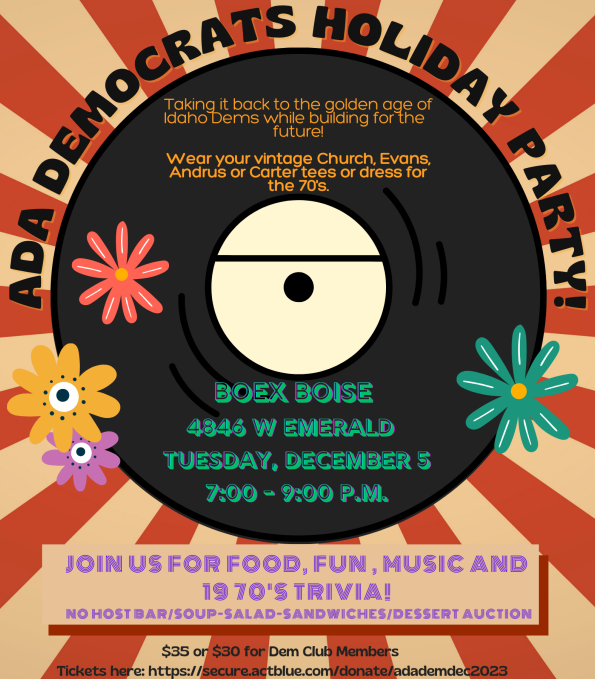 Ada County Democrats: Holiday Party, Trivia, and Dessert Auction
Ada County Dems in partnership with Johnathan Baldauf, candidate for Ada County Prosecutor are holding a Holiday Party complete with Trivia from the golden age of Democrats in Idaho. Come win prizes as you answer questions from the 70's when Idaho was electing folks like Cecil Andrus and Frank Church. Come have fun and help us raise money to elect new leaders like them such as John, so we won't have people prosecuted like the Pre-Roe era of 50 years ago. All funds will go to supporting the Ada Democrats staff and coordinated buy in for next year to help elect John, and all our other great candidates!
Join us at 7:00 PM December 5th at BoEx Boise at 4846 W Emerald St Boise ID 83706
Tickets are $35.00 in advance or at the door, $30 for Ada DEM club members (monthly pledge members). Free sandwiches, soup and salad will be provided. Along with a no-host bar with a great variety to drink, we will be having a dessert auction. Let us know if you can bring a dessert to auction off for the holidays, or to share amongst friends at the party! Can't wait to see you there!
Share This Story, Choose Your Platform!